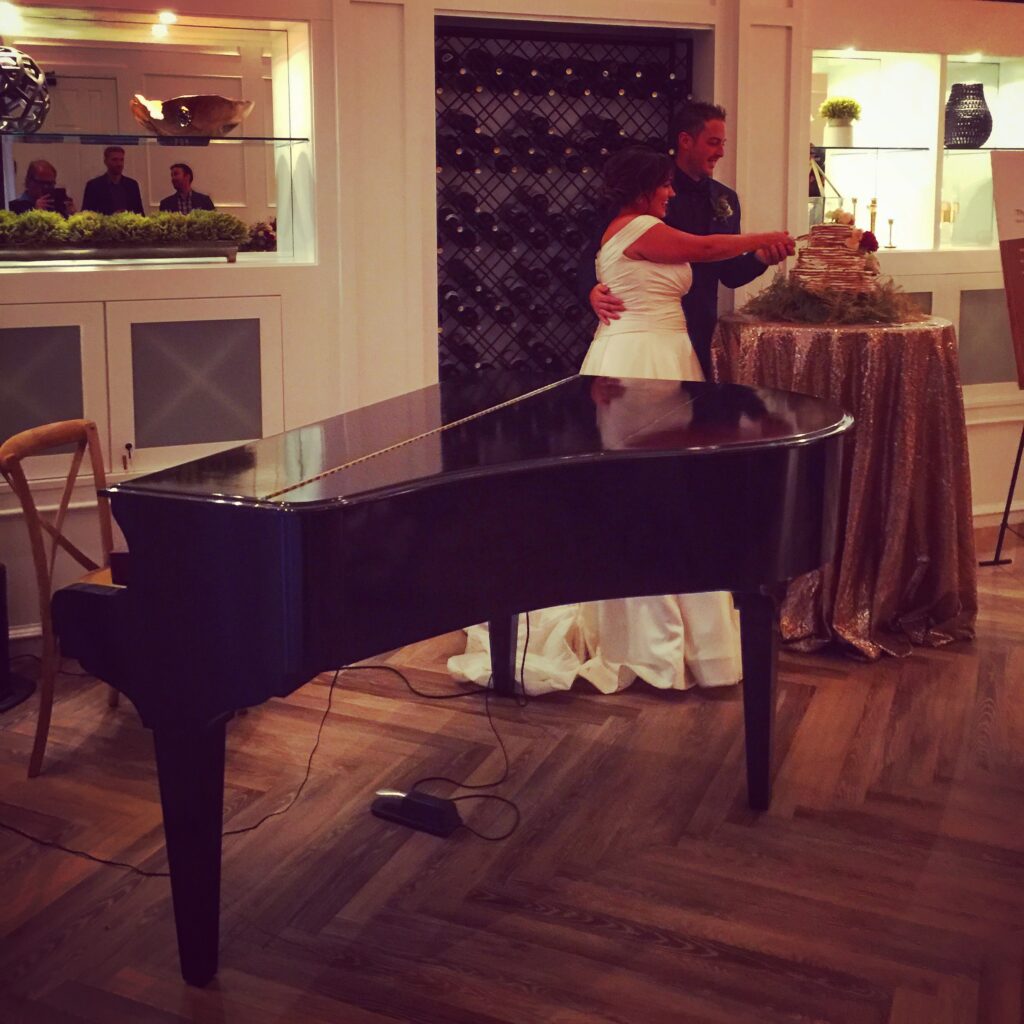 You deserve to have the most spectacular celebration possible!
Extraordinary music can help make that happen…
I specialize in performing pop and classic rock music in a jazz quartet. Your guests will be able to enjoy well known tunes everyone knows wrapped in a sophisticated jazz package. Imagine your guests faces hearing well known tunes performed with a unique jazz twist! Let's make your day unique and take your celebration to the next level.
I've performed for the Royal Family and Heads of State at functions around the globe. You too will be treated like royalty and it's not as expensive as you think. Don't you deserve the very best?
CEREMONY:
I can program your wedding ceremony music exactly to your specifications. Whatever music in any style you desire for the ceremony is 99% possible. You can chose music that reflects exactly who you both are.
I can work with a family member, a singer of your choice or I can hire the finest singer that suits your style to sing for the ceremony.
If you want only instrumentals (IE: no vocals) I know literally thousands of tunes off the top of my head so there's always a chance I can perform something suitable for what you desire. There is an added fee for special requests I'm not familiar with which rarely happens.
RECEPTION:
My "Rocktail" trio specializes in performing well known pop/rock tunes from the 70's, 80's, 90's in a sophisticated stylized jazz format. Of course other types of music are possible.
You can have any combination of instruments you desire in trio, duo, or even single. I perform with only the finest singers and instrumentalists in Calgary.
I have the ability to sound like a piano trio (piano/acoustic bass/drums) because of the use of a technological device I use. So I sound like a piano trio but you pay for only my services.
DINNER & DANCE:
I can perform special songs (with family members or myself) for features or first dance / father-daughter dance / dedications, etc.
If you want a Top 40 band I recommend you hire a DJ for the dance portion. If you want anything else: IE: Country, Blues, R&B, Funk I recommend a live band.
Extra considerations:
I have a lovely grand piano that can be assembled and performed anywhere that your venue can provide electricity. I've even played off of a generator on the side of a mountain in the Kananaskis.
No costly agency fees if you book direct.
Book early to ensure availability.
I guarantee all my work.
"Performing music is not just about filling space with sound, it's about creating memories that will last forever."
This is a selection I was entrusted to pick for a client's wedding. "You Are So Beautiful" by Joe Cocker. It was used as a feature during the service.
Reviews
From: GL-M
Easy to Work With, Seasoned Professional with a Great Personality
Sheldon is an incredible pianist to work with for your special day! With his years of experience in the industry he is able to provide a level of personalized service that will help remove any stress when it comes to planning your music. He can play any song, any genre with ease – he makes planning a breeze. He has a great personality and is easy to connect with. You will not be disappointed!
Sent on 11/Feb/2022
Lisa H. , married on 11/sep/2021
Talented Class Act
Sheldon performed at our wedding and also at our sons. He is truly talented and definitely brought a touch of class to both events. Totally professional, on time, great communication and strives to please his clients. He's excellent at reading a crowd and playing music to suit the mood and event. Extremely happy to have had him be a part of both our celebrations. Looking forward to having him play at some future parties!
Sent on 12/Feb/2022
Julia A.
Wonderful to work with!
We were so happy with all Sheldon did for our special day! We had a number of requests that Sheldon was able to fulfill for us. He was our pianist for our ceremony, including some specific hymn requests, plus chose the perfect accompaniment for our procession and a fun song for the pronouncement and walking out. Also provided great entertainment during our cocktail hour with a system that sounds like a jazz trio! Our after dinner entertainment was provided by a 6 piece jazz band, in which Sheldon found the required band members for a concert that thrilled our guests (and the groom who had the best time calling out songs from the Real Book for the band to play in their first set!) We were also pleasantly surprised when Sheldon sang the three specific songs that were requested by the bride for the bride/groom and father/daughter dances. We really appreciated all the extra things that Sheldon did for us (providing the outdoor sound system for our ceremony, lending us his piano for a special song performed by the bride's niece, answering all of our questions etc!) We have so many great memories from the day that would not have happened without Sheldon!
Sent on 06/Jul/2022
Erik P. , married on 20/jun/2020 4.8
Absolutely amazing
I unfortunately did not have the chance to hear you play as we arrived to the reception after you had finished playing. My guests on the other hand were absolutely amazed by your playing abilities. Thanks again for the great music
Sent on 24/Oct/2022