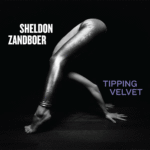 Worldwide release: May 25, 2018
Recorded live off the floor at OCL Studios, Calgary, AB. Starring George Koller on Acoustic Bass, Bob Tildesley on Trumpet/Fluegalhorn, Andy Ericson on Drums and Johanna Sillanpaa featured on one of the pieces. All works are original.
Sheldon Zandboer is signed with Chronograph Records and was funded by the Alberta Foundation for the Arts grant.

Tipping Velvet CD was released May 25, 2018 worldwide. The CD release event occurred May 27, 2018 at the Junction . Bar . Food . Stage to a packed house. Featuring the original recording session lineup with Jason Valleau standing in for George Koller on acoustic bass.


Calgary Herald Tipping Velvet Article "Longtime jazz pianist steps into spotlight with first solo record."
YYScene magazine: "Calgary jazz mainstay Sheldon Zandboer finally free enough to release his debut." (pre CD release event interview)
Starpoint Magazine Review by Hans-Bern Hülsmann, Germany.
the Whole Note Magazine  by Raul da Gama
All songs written by Sheldon Zandboer
"I Will Wait" co-written with Johanna Sillanpaa
Producer: Kodi Hutchinson
Co-producer: Sheldon Zandboer
Engineering/Mixing: Spencer Cheyne
Recorded at: OCL Studios, Calgary, Alberta, Canada
Mastering by: Guy Hebert, Karisma Mastering
Photographer: Andre Goulet
Model: Lindsay-Marie Istace
Package Design: Michael Dangelmaier, Red Pine Design
Administration: Stephanie Hutchinson
Piano Tuning: Bob Moffat/John Musselwhite
Piano provided by: Steinway Piano Gallery Calgary
Funding assistance: Alberta Foundation for the Arts