"Sheldon Zandboer is your first choice as pianist/keyboard player in Calgary. No other pianist has his breadth of knowledge and skill in as many genres of music in southern Alberta"
Senator Tommy Banks
Distinguished Albertan and Musician
Edmonton, Alberta, Canada
"Sheldon Zandboer has a quality to his piano playing which I don't attempt to define and something I just go with, leading me without pause or ponder into the musical conversation we call jazz."
Producer of Piano And All That Jazz
"Sheldon is an outstanding musician and a really great guy. I can't say anything more because if you know what I know about his chops and work ethic, you might actually hire him."
Tim Tamashiro CBC Radio Canada, Host of Tonic
Calgary, Alberta, Canada
"In a world full of pseudo-professionals, half-assed wanna-be's, and full-on clowns, it's nice to know there are true intellectual artistic warriors like Sheldon Zandboer".
Sam Lussier
Director of Jazz Ensembles, Florida International University. Miami, Florida.
"Sheldon is the Pearl of the Prairies"
Stefano Valdo
Head of Jazz Music Department, Ambrose College,Calgary, AB.
"However, for technical mastery, dynamic playing, knowledge of the musical (jazz and non-jazz) vocabulary, and just having fun, piano man, Sheldon Zandboer stole the show on numerous occasions. Between starting off one solo with the last few notes of the solo before him, quoting other melodies in his solos, skillfully subtle comping and engaging musical charm, Zandboer showed why he's such a popular choice for piano around town. If you haven't seen him play yet, get off your couch & do it!"
Anthony Appleby
CJSW Jazz Radio Personality
Calgary, Alberta, Canada
"We were on the Jupiter and in my lounge. Remember the red piano? A bunch of us entertainers were on the fore deck drinking, having fun, and somebody noticed that you were playing the red piano. We all gazed at you through the glass, and I remember how our voices became quiet and our eyes were seeing something so beautiful. I mean there you were so enveloped and entranced by the music – feeling sound, and loving what you were feeling. When we entered the lounge you didn't hear us, or if you did, you didn't care. We were mesmerized by your uniqueness, your talent, your quietude, while living and breathing in the moment of the music you were creating. John had his eyes closed just listening to you play. It was one of those very rare times when reality, of all places a ship, took a strong hold on everybody. It was through you that we all loved a little more and understood our jobs a little more. Remember we were in Tunisia, Egypt,  and Turkey – where Khaddafi was a couple  of hours away, and planes were shooting at drones, and there were no children in the parks, and there were no English newspapers. We were entertainers for the people but what did we give to ourselves? It was that moment – listening to you play the red piano that we understood not only the impact of one individual, but also how much music you had inside."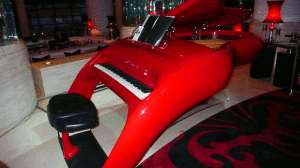 Recollections of time, aboard the ship S.S. Jupiter
Veronika Bradley
Entertainment Manager, Toronto, Ontario, Canada
"Imagine if you will, summer on the Aegean Sea. A small cruise ship glides towards the sunset.  There is an upright piano, lacquered bright red and chained to a bulkhead in the foyer of the lounge. In the lounge holiday revelers are drinking and chattering. Unnoticed by most of them and oblivious to their presence, a young man in tie and tails sits at this absurd instrument and starts to play. It begins as "Somewhere Over The Rainbow," single notes, right hand. A few people look up. It develops into a complex set of variations. Conversation in the lounge ceases. The music is melancholy, introspective and harmonically adventurous. It ends simply and hopefully, and the revelers in the lounge are silent at first, save those who are weeping. Then they burst into applause for what was one of the most sublime musical performances I have ever experienced. The young man was Sheldon Zandboer. I have yet to find a more sensitive and supportive pianist."
John MacMurchy
Jazz Musician, Toronto, Ontario, Canada
To hear a version of Somewhere over the Rainbow, August 21, 2013
To turn off the audio track just click the pause button below before viewing.
"I met Sheldon in 2003 after hearing about him from an aquaintance of his who happens to live next door over several years about the musical activities that were occurring in Sheldon's studio. This neighbour enjoyed listening to what he could hear through the walls of their adjacent residences. Sheldon is not only an extremely talented artist, teacher, performer, producer, arranger and composer, he is a generous and well organized individual. He is working on a project with me at the moment and has been careful to ask questions that point towards the ultimate vision of the project. I heard the first music bed last week and was blown away. Sheldon incorporated every aspect of the amorphous 'vision' that I shared with him and melded it together beautifully – with talent and strength."
Sandra Sutter
singer/songwriter, member of Quicksilver, Business Manager of Rising Edge Technologies Ltd., ED and former Board Member of the Calgary Aboriginal Arts Awareness Society, Music Coordinator of the Centre for Spiritual Enrichment.
"Sheldon has worked with our Parkinson's Study Dance Project for 10 years now at DJD and in all that time I've never heard Sheldon play the same piece of music twice."
Vicki Willis
Co-creator of Decidedly Jazz Danceworks (DJD), Recipient of the Lieutenant Governor of Alberta Distinguished Artist Award (2022) for her multi-decade career in jazz dance.